Decisiv's estimate approval capability gives fleet and asset managers greater control over two of the biggest variables in service events: cost and time.
As a platform user, you can use the estimate approval capability to access all the financial pieces involved in the service process in one place. This information is available immediately from vendors who use the Decisiv platform. You'll receive an immediate alert each time a vendor sends documentation through the platform, which allows you to react quickly and with the information you need to make informed decisions.
Here's how you can use the estimate approval capability to your advantage.
Save Time
When you send a service request through the Decisiv platform, the estimate you receive from the vendor is returned to you through the platform. This eliminates the potential for missed phone calls, emails or text messages, or simple miscommunication.
Once you receive the estimate, the platform gives you three options for each service line item. You can find these by clicking on the dropdown menu next to the estimate for each service.
Approve means you authorize the work and its corresponding estimate.
Defer means you'd rather wait to perform the service at a later date.
Decline means that you do not want the service performed at all.
As a user, you also can create set approval limits for specific vendors that also use the platform.
These simple features help ensure that you only pay for what you've approved and eliminate time spent in back-and-forth telephone calls with a service provider. Decisiv's research has shown that using the estimate approval capability lowers average invoice approval time, which means a faster return of the asset and less time out of service.
Here's what a request for an estimate approval looks like: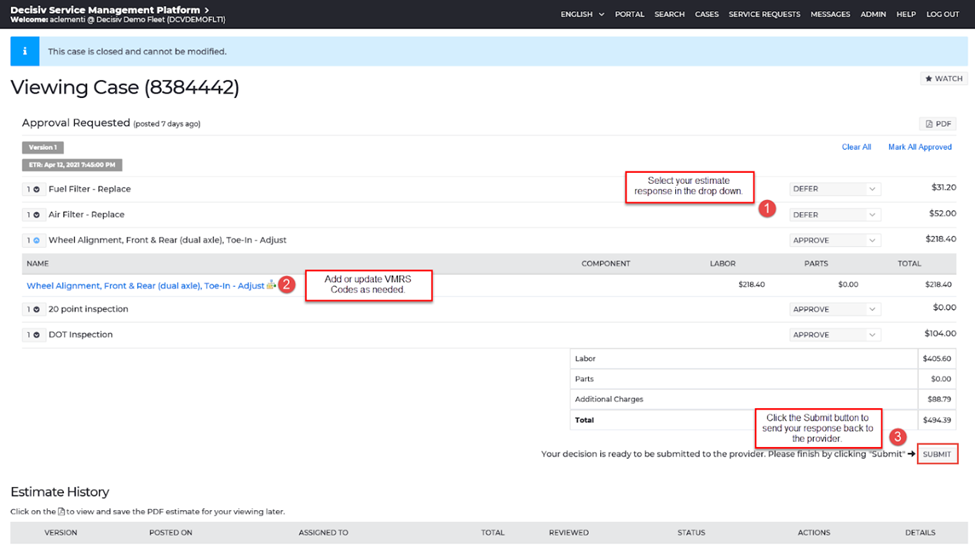 Save Money
When the work is complete, a vendor on the Decisiv platform will send you the invoice through the platform. With the estimate and invoice in one place, you can compare actual labor and parts costs to the estimate.
In an industry where 10 percent actual-over-estimate is often assumed, there's a real potential for your fleet to save hundreds of dollars on more costly repairs and maintenance.
Because all of the information is saved within the platform, you also review "apples to apples" costs from previous service events to identify differences at a single dealership or between vendors.
Make Better Informed Decisions
Decisiv SRM also allows you to add and update VMRS codes directly in the platform to better track service events by vehicle, a feature that can further help you manage your fleet's data and logistics. For additional details on this capability, see our "Addressing inconsistent quotes" article.
Over time, you can use the data to identify trends over time, such as ongoing service needs for individual vehicles, unexpected service events in specific vehicle makes and models, and hours spent on labor in servicing an asset.
Want to know more about estimate approval and repair tracking? Check out this helpful step-by-step guide or contact the Decisiv Support Team and mention "estimate approval" in the subject line: support@decisiv.com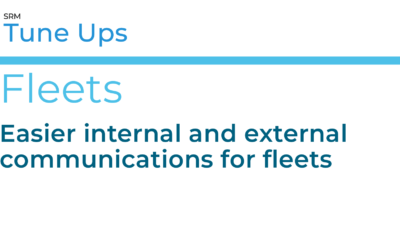 The Decisiv SRM Platform streamlines your internal and external communications. With the Notes Feature: You can handle communication digitally – no more phone tag. Everyone who needs to know about a case has access to it – reducing time wasted tracking down answers....