How does Decisiv SRM connect people, places, systems, and things?
The 4Cs of Asset Service Management
The Decisiv SRM Ecosystem connects all its partners and unifies the entire asset service event process based on the underlying pillars of asset service management: Connectivity, Communication, Control, and Consistency.
CONNECTIVITY
CHALLENGE
Connected trucks generate high volumes of data that becomes difficult to make actionable. Most of this asset data is siloed.
CONNECTIVITY
CAPABILITY
Decisiv SRM delivers in-context information at the point of service, facilitating seamless data flow between assets, service points, OEMs, and fleets to enable effective actions. This includes integration with telematics and remote diagnostics.
CONTROL
CHALLENGE
Customers expect transparency across their service networks for visibility into estimates, service operations, and status updates.
CONTROL
CAPABILITY
The Decisiv SRM platform establishes direct communication between fleets and dealers. This improves data quality and service event reporting and drives accountability and process improvement. Every participant has full transparency into the entire service process.

COMMUNICATION
CHALLENGE
Communication today is inconsistent, often with multiple sources, and dependent on phone calls, faxes, and emails.
COMMUNICATION
CAPABILITY
Decisiv SRM brings multiple information sources together on a single unified platform. This reduces administrative overhead, enables collaboration at the point of service, and streamlines and simplifies the approval process.
CONSISTENCY
CHALLENGE
Increased visibility into service data is required by customers to make better-informed decisions. 
CONSISTENCY
CAPABILITY
Decisiv SRM reduces risk, increases efficiency, and improves decision making. The platform provides the right information to the right people at the right time, driving more consistent service with visibility into service processes and costs to drive accountability.
Core Services Platform
The Decisiv Core Services Platform is a domain-specific software platform built on a flexible Amazon Web Services (AWS) infrastructure. It connects people, places, systems, and things within the Decisiv SRM platform, enabling applications that unify the management of service events at asset owner shops, service provider locations, and via mobile service. Such applications drive asset uptime, consistent service delivery, customer satisfaction and brand loyalty, reduce warranty and support costs, cut down on administrative overhead, and even improve service data quality and availability.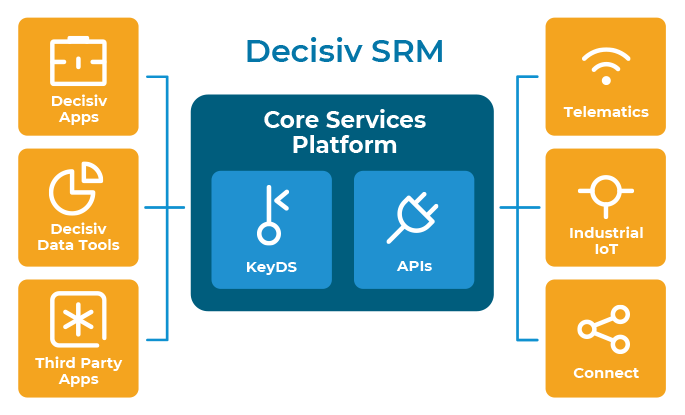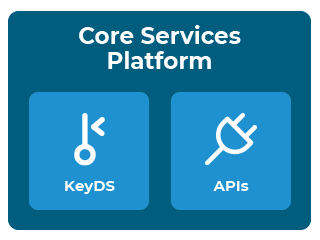 Core Services & APIs
Core Services provide the SRM domain-specific capabilities needed by the rest of the SRM Ecosystem through SRM Connect APIs that connect Decisiv applications, third-party applications, telematics, IIoT, and connected systems.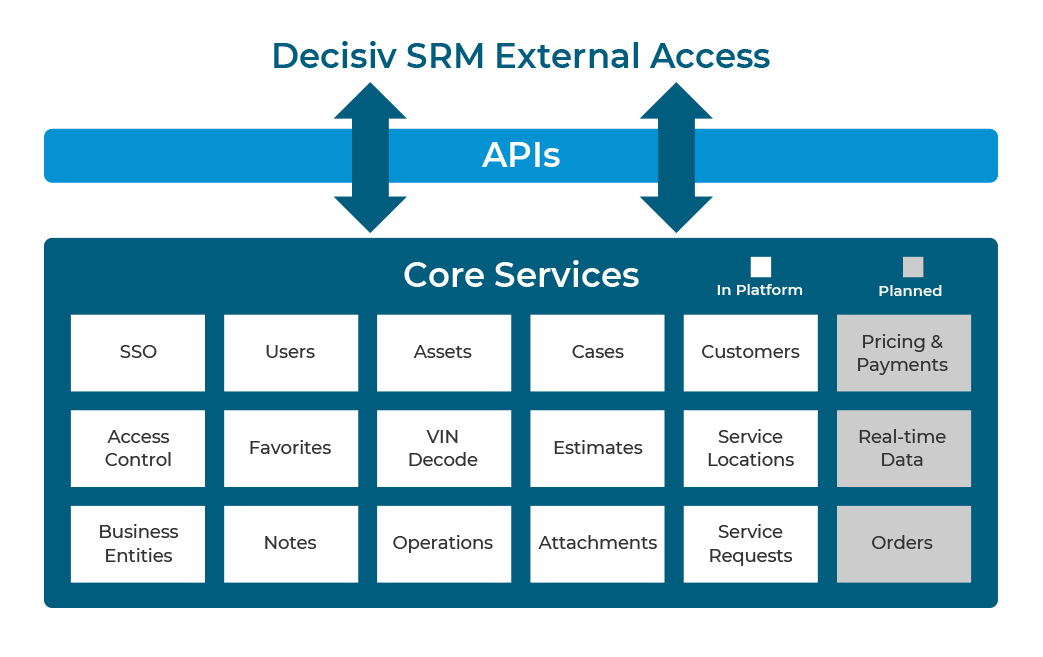 Decisiv enables these connections through the SRM Connect family of APIs that expose key case, provider, asset, and service provider data. The APIs are RESTful web services that will continue to expand and evolve to reflect the growing needs of our users. Current documentation can be found here.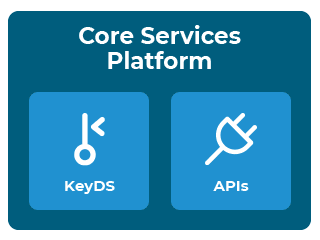 Take the Key Design System for a drive.
Sign up today.
The Decisiv Key Design System
The Decisiv Key Design System enables customers and partners to quickly and efficiently create complimentary SRM Ecosystem application interfaces that are tailored to your specific needs. User-friendly, responsive React JS framework components allow you to build less risky solutions, in less time than standard software projects typically take. 
The Key Design System provides all the elements you need to deliver outstanding software experiences. Starting with a comprehensive developer guide, we give you the components and best practice documentation you need to get started. Our designs and recommendations have been meticulously crafted over several years of research by our expert design and developer teams, who understand the nuanced needs of our domain users inside and out. You'll be able to deliver interfaces that get the job done, without having to worry about the details of interaction or behavior patterns.
 The Decisiv Professional Services team is available to support you in making your ideas come to life. We can help you go from concept to delivery in record time, for nearly any solution you can dream up.
Decisiv SRM Ecosystem
Read our white paper on our strategic approach to commercial asset maintenance.
Customer Success With SRM
Learn how our customers are using Decisiv SRM to elevate their business.