As commercial vehicle operations expand to nearly pre-COVID levels, fleets and service providers are managing an increasing volume of service events
Glen Allen, Virginia– June 16, 2020 (PR Web)
Decisiv, Inc., the industry leader in Service Relationship Management (SRM) solutions, announced today that service event data indicates an increase in asset utilization as states across the U.S. continue to reopen their economies. Average weekday service activity over the last two weeks has risen to more than 13,000 events. This represents an increase of more than 1,000 service events per week compared to weekly averages over the previous 12 weeks.
"Trucking activity has always been a leading indicator of economic growth, and along with rising commercial vehicle utilization comes the need for preventive maintenance and repair work," said Dick Hyatt, president and CEO of Decisiv. "From the onset of the COVID-19 pandemic, service providers, fleets and call centers have enabled new ways of operating to support trucking operations, including increasingly adopting the paperless and remote capabilities of our service orchestration solution. As economies are reopened they can continue to rely on Decisiv SRM to manage their service operations."
Over the past six weeks, maintenance and repair activity among fleets and service providers has averaged 62,974 events weekly, nearing pre-COVID service levels. The Decisiv data is based on about 270,000 monthly maintenance and repair events on over 7 million Class 6-8 commercial vehicles that take place at 4,500 service locations across the U.S. and Canada.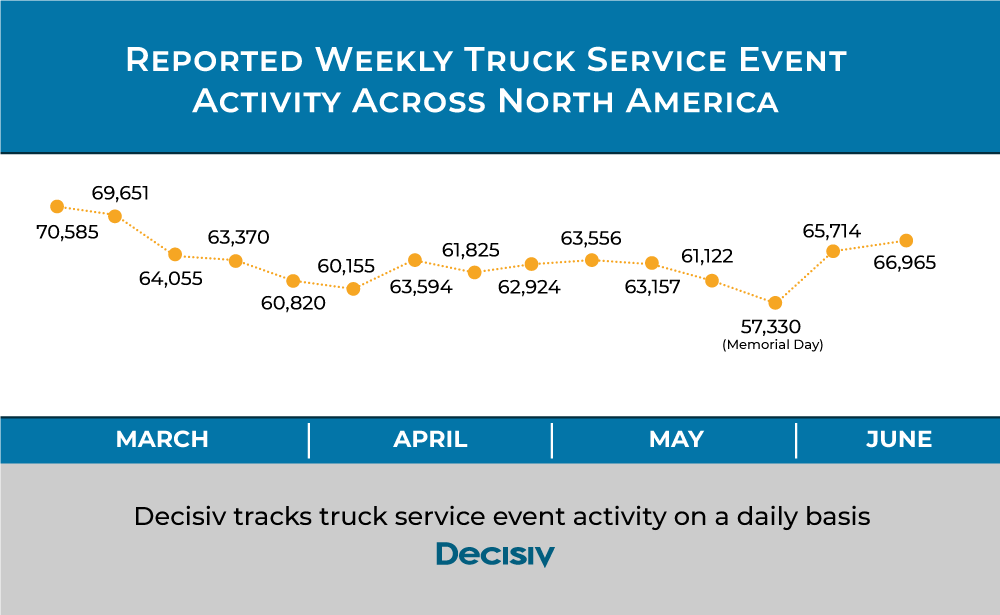 Decisiv also publishes detailed service event data monthly in its Service Data Index, which offers a unique perspective on commercial vehicle parts and labor costs in North America.
About Decisiv, Inc.
Decisiv provides a cloud-based Service Relationship Management (SRM) platform that revolutionizes how the service supply chain for commercial assets communicates and collaborates. As the industry leader in SRM technology, Decisiv is driving unrivaled improvement in asset performance and utilization for manufacturers, service providers and asset owners in the commercial vehicle market. The SRM platform's service orchestration capability that harnesses, shares and analyzes connected asset data, and intelligently enables service management, is the key to driving asset uptime and availability. Decisiv is the partner of choice for major commercial vehicle manufacturers, including Volvo, Mack, Hino, Isuzu, Peterbilt, Kenworth and Michelin, as well as their dealers and call centers, service networks and asset owners. For more information, visit www.decisiv.com.
Contact:
Mark Wasilko
VP Marketing
Decisiv
Phone: (804) 762-4153