Decisiv data on the trucking industry's service and repair activity reveals ongoing consistency and stability over the past two months
Glen Allen, Virginia– May 7, 2020 (PR Web)
Decisiv, Inc., the industry leader in Service Relationship Management (SRM) solutions, announced today that data continues to show steady maintenance and repair activity among the trucking industry's fleets and service providers. Over the past eight weeks, an average of 63,300 service events have been managed on the SRM platform weekly. Service activity on weekdays has continued to exceed 12,000 events daily.
"While service providers and fleets continue to adapt to new ways of operating during the coronavirus pandemic, the level of service activity on our SRM platform remains remarkably consistent," said Dick Hyatt, president and CEO of Decisiv. "Week by week on a daily basis, the number of service events is steady and the level of activity parallels the same period last year. All of this indicates that across the Decisiv SRM Ecosystem, service and repair operations are exhibiting tremendous resilience during unprecedented times, and are ready and able to support the nation's vital trucking operations."
Decisiv also reported that service networks and call centers are relying on the paperless and remote capabilities of its service orchestration solution to maintain business as usual operations. Over the past two months, the type of repair activity reported on the SRM platform has been consistent, with no indication of a significant reduction in Preventive Maintenance work as trucks continue to carry essential freight.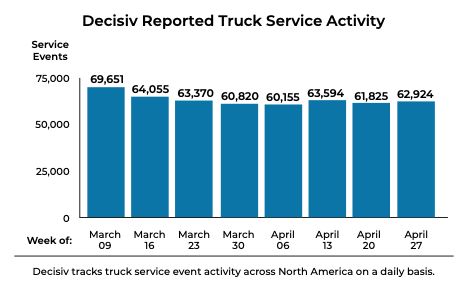 The Decisiv data is derived from a comprehensive analysis of more than 230,000 monthly maintenance and repair events on over 7 million Class 6-8 commercial vehicles that take place at 4,500 service locations across the U.S. and Canada.
Actionable and valuable service event data is also available in the Decisiv Service Data Index, which provides a unique perspective on commercial vehicle parts and labor costs in North America.
About Decisiv, Inc.
Decisiv provides a cloud-based Service Relationship Management (SRM) platform that revolutionizes how the service supply chain for commercial assets communicates and collaborates. As the industry leader in SRM technology, Decisiv is driving unrivaled improvement in asset performance and utilization for manufacturers, service providers and asset owners in the commercial vehicle, heavy equipment, and industrial markets. The SRM platform's ability to harness, share and analyze connected asset data, and to intelligently enable service management, is the key to driving asset uptime and availability. Decisiv is the partner of choice for major commercial vehicle manufacturers, including Volvo, Mack, Hino, Isuzu, Peterbilt, Kenworth and Michelin, as well as their dealers and call centers, service networks and asset owners. For more information, visit www.decisiv.com.
Contact:
Mark Wasilko
VP Marketing
Decisiv
Phone: (804) 762-4153