SRM Sentinel. Keep Your Service Bays Busy.
Translate real-time preventive maintenance, recall, campaign and fault codes into proactive service appointments.
The Decisiv SRM Ecosystem delivers value to all fleet and asset managers, manufacturers, service providers, component suppliers, and partners across the entire asset service lifecycle.
Service Events Managed to Date
Image Carousel - Factoid 1
Assets in Active Operation
Connect dealers, assets, and customers to drive improved uptime and asset performance
Image Carousel - Factoid 2
Fixed Right the First Time
See higher uptime and fewer comebacks by making sure repairs get done right.
Image Carousel - Factoid 3
Whether in-shop or mobile,
technicians start jobs with the information they need.
Image Carousel - Factoid 4
Decisiv SRM connects to your existing systems to give you access to new data and capabilities.
Image Carousel - Factoid 5
Fleet Owners and Managers Connected to the SRM Ecosystem
In 2020, more than 74,000 fleet owners and managers relied on the Decisiv SRM Ecosystem.
Image Carousel - Factoid 6
Service Locations in
North America
Fleets have access to the broadest dealer and independent service provider network in the industry.
Our Evolution
The Decisiv SRM Ecosystem has evolved from simply streamlining maintenance events to become the largest asset service management Ecosystem in the commercial vehicle industry. Decisiv is bringing together equipment and component manufacturers; fleet owners, managers, and operators; and service providers on a common platform and offering an unrivaled level of connectivity and control.
Connected Service Management
Today, the Decisiv SRM Ecosystem delivers actionable data, applications, and intelligence at the point of service from all connected partners. This unique offering enables real-time decision making, streamlines fleet management, lowers the total cost of asset ownership, and has delivered billions of dollars in value to OEMs, dealers, and fleet owners.
Managing Evolving Technologies
By serving as a connected system of engagement for commercial asset and service data partners, we are transforming how assets throughout the world are acquired, managed, and serviced. We are uniquely positioned to meet the emerging asset service management opportunities that electrification and autonomous vehicle technology will introduce.
Strengthen Customer Relationships
Service Providers, elevate the value you deliver to fleet owners by preemptively managing service alerts. Keep customer trucks on the road by delivering preventive maintenance and providing a trusted service for unplanned repairs on their behalf.
Drive Business
Drive a more consistent volume of business to your shops while taking control of the entire asset service lifecycle. Get more fully engaged with your fleets by proactively responding to breakdowns, and scheduling and managing service for currently due and overdue preventive maintenance.
Actionable Alerts
Manage all your service and maintenance activities for any asset brand, using a real-time dashboard. With just a few clicks, it's easy to stay on top of regular service events such as PMs, active recalls or campaigns, expiring warranties, or new telematics faults.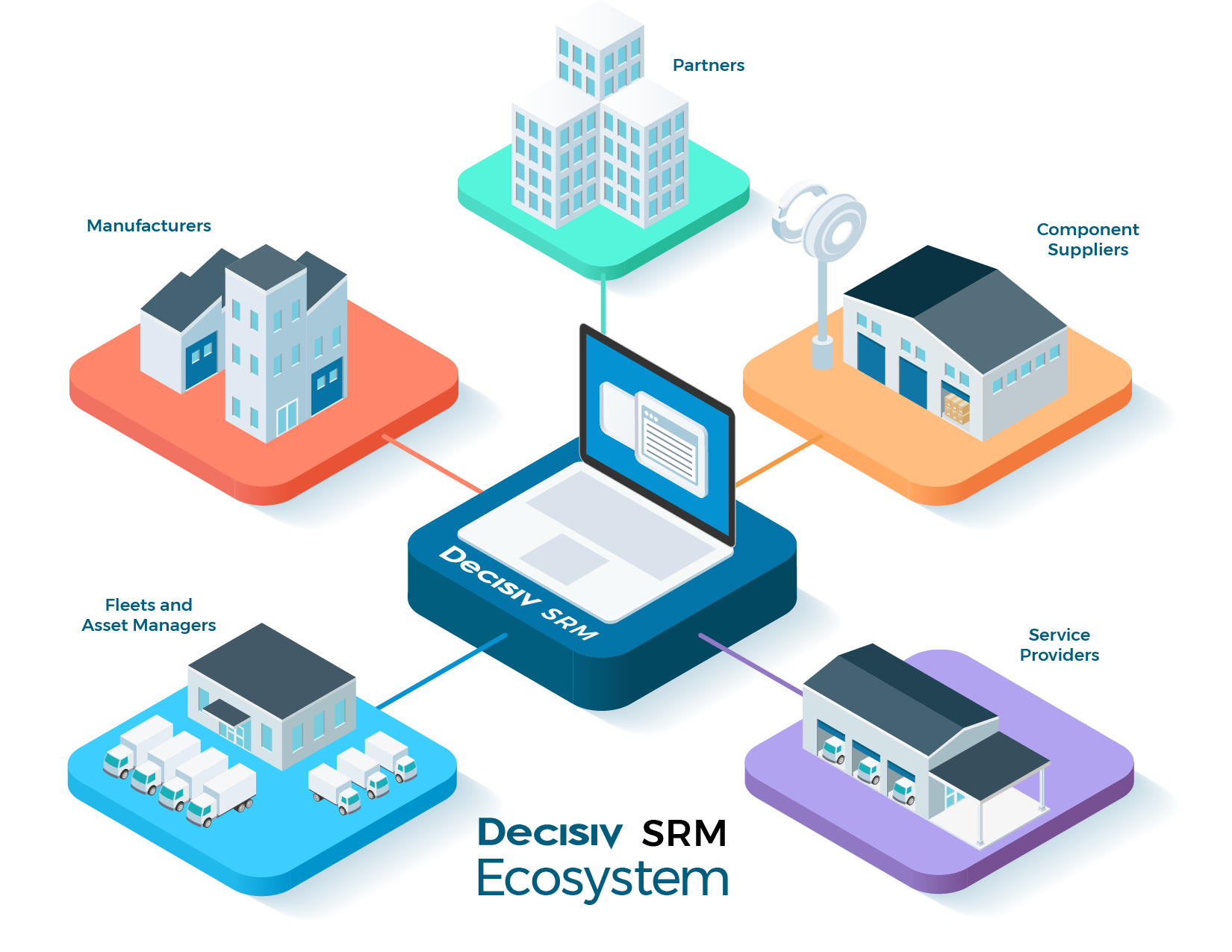 The Decisiv SRM Ecosystem: Built For the Future
Due to the broad adoption of the SRM platform by most major manufacturers in the industry, it's very likely that your fleet is already connected to the Decisiv SRM Ecosystem. In fact, nearly 60 percent of commercial vehicles are already being managed in the SRM platform.
More than 74,000 fleet and asset owners are managing maintenance and repair activity on the platform for over 7 million assets, to the tune of more than 13,000 repair events each day.
To understand how the Ecosystem can provide value for your business, visit one of the following: