Use the Decisiv SRM Platform. Increase your revenue.
Calculate your gains:
5K+ Service Providers
7M+ Assets
74K+ Fleets and Asset Managers
Put the commercial vehicle industry's largest service management ecosystem to work for you—and get proven, measurable gains in efficiency, easier communication, uptime, utilization, and overall asset performance.
The Decisiv SRM Ecosystem delivers value to all fleet and asset managers, manufacturers, service providers, component suppliers, and partners across the entire asset service lifecycle.
Service Events Managed to Date
Fleet Revenue Enabled by the SRM Platform in 2023
(How is this calculated?)
Fleet revenue based on:
Average revenue of $1,500/truck/day
SRM Platform's proven 3-day to 3.36-day reduction in days out of service for multi-day repair events
The number of service events in 2023 performed year to date by service providers fully utilizing the Decisiv SRM Platform
Image Carousel - Factoid 1
Assets in Active Operation
Connect dealers, assets, and customers to drive improved uptime and asset performance
Image Carousel - Factoid 2
Fixed Right the First Time
See higher uptime and fewer comebacks by making sure repairs get done right.
Image Carousel - Factoid 3
Whether in-shop or mobile,
technicians start jobs with the information they need.
Image Carousel - Factoid 4
Decisiv SRM connects to your existing systems to give you access to new data and capabilities.
Image Carousel - Factoid 5
Fleet Owners and Managers Connected to the SRM Ecosystem
More than 74,000 fleet owners and managers rely on the Decisiv SRM Ecosystem.
Image Carousel - Factoid 6
Service Locations in
North America
Fleets have access to the broadest dealer and independent service provider network in the industry.
Our Evolution
The Decisiv SRM Ecosystem has evolved from simply streamlining maintenance events to become the largest asset service management Ecosystem in the commercial vehicle industry. Decisiv is bringing together equipment and component manufacturers; fleet owners, managers, and operators; and service providers on a common platform and offering an unrivaled level of connectivity and control.
Connected Service Management
Today, the Decisiv SRM Ecosystem delivers actionable data, applications, and intelligence at the point of service from all connected partners. This unique offering enables real-time decision making, streamlines fleet management, lowers the total cost of asset ownership, and has delivered billions of dollars in value to OEMs, dealers, and fleet owners.
Managing Evolving Technologies
By serving as a connected system of engagement for commercial asset and service data partners, we are transforming how assets throughout the world are acquired, managed, and serviced. We are uniquely positioned to meet the emerging asset service management opportunities that electrification and autonomous vehicle technology will introduce.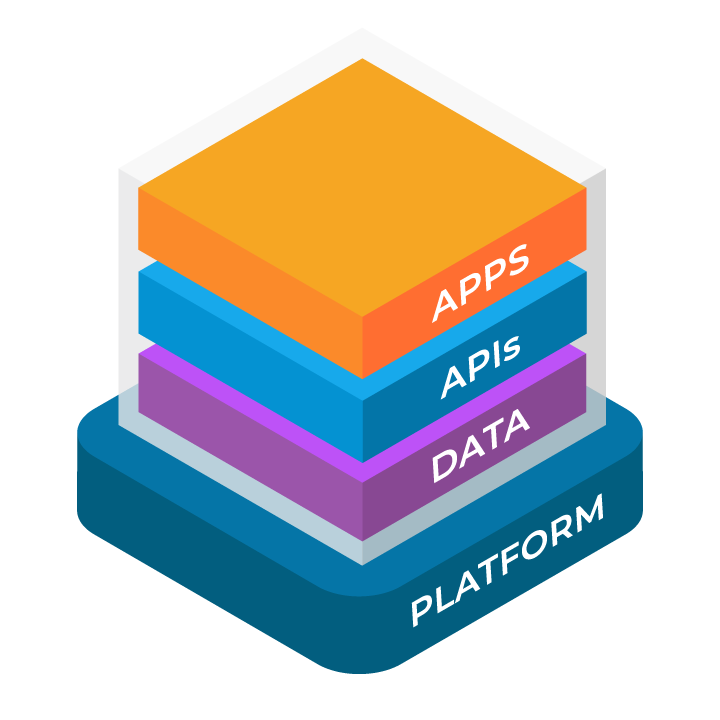 Intelligent Service Management
Decisiv's answer to the next generation of service management needs, more specifically, meeting elevated customer expectations. It enables all participants in the service supply chain (Fleets, Service Providers, and OEMs) to come together in the Decisiv SRM Ecosystem where they can streamline, simplify, and gain insights to increase service automation across the lifecycle of every asset. It focuses not only on bringing together the variety of complex data sources, but also interpreting that data in a meaningful way to manage, maintain, and service commercial assets.
You can learn more about Intelligent Service Management by reading our new white paper, and by listening to our podcast.  
The Decisiv SRM Ecosystem: Built For the Future
Due to the broad adoption of the SRM platform by most major manufacturers in the industry, it's very likely that your fleet is already connected to the Decisiv SRM Ecosystem. In fact, nearly 60 percent of commercial vehicles are already being managed in the SRM platform.
More than 74,000 fleet and asset owners are managing maintenance and repair activity on the platform for over 7 million assets, to the tune of more than 14,000 repair events each day.
To understand how the Ecosystem can provide value for your business, visit one of the following:
Slide 1
Use Decisiv SRM to Manage the Entire Service Process
Decisiv SRM connects everyone involved in every step of the service event process from beginning to end.

Slide 2 - It Starts with a Light
(or a QR code. or a telematics fault code. or a phone call)
Service may be needed to address a high-severity issue, maintenance due or pending failure. With Decisiv SRM, key participants in the service event are alerted when this happens. This means an asset operator doesn't have to stop and make multiple phone calls – Decisiv SRM initiates the service process and alerts the right people, at the right time.
Participants and process vary depending on use case.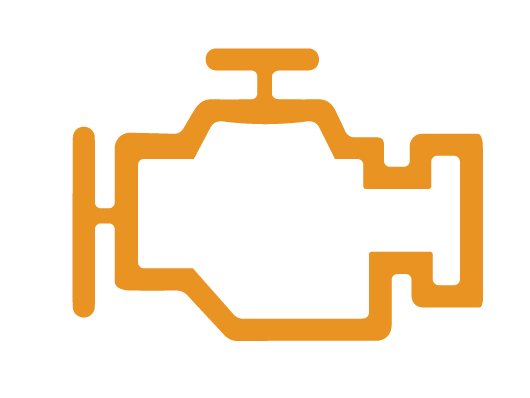 Slide 3 - Case is Created
A service case is created.
Once the maintenance or repair need is identified, Decisiv SRM streamlines the repair process by delivering real-time data and updates to everyone involved in the service event. The Decisiv SRM cloud-based platform makes it easier for key service event participants to work together, no matter where they are located or what their role.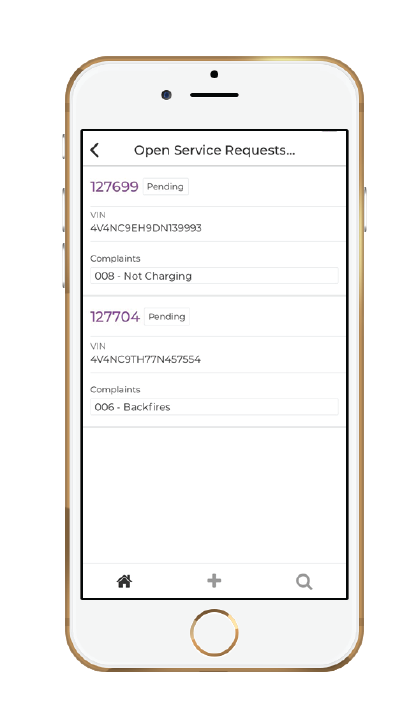 Slide 4 - Service is Scheduled
Service is scheduled and repairs are performed.
Typically, the repair process starts by locating the best service provider based on proximity, service needed, and parts or technician availability. Once the service provider is selected, service is scheduled directly through the platform. After the repair needs have been assessed, an estimate is prepared and sent for approval.
With Decisiv SRM, this is all done through one, connected platform. Multiple people can be alerted when something happens, reducing time spent on repetitive phone calls or emails.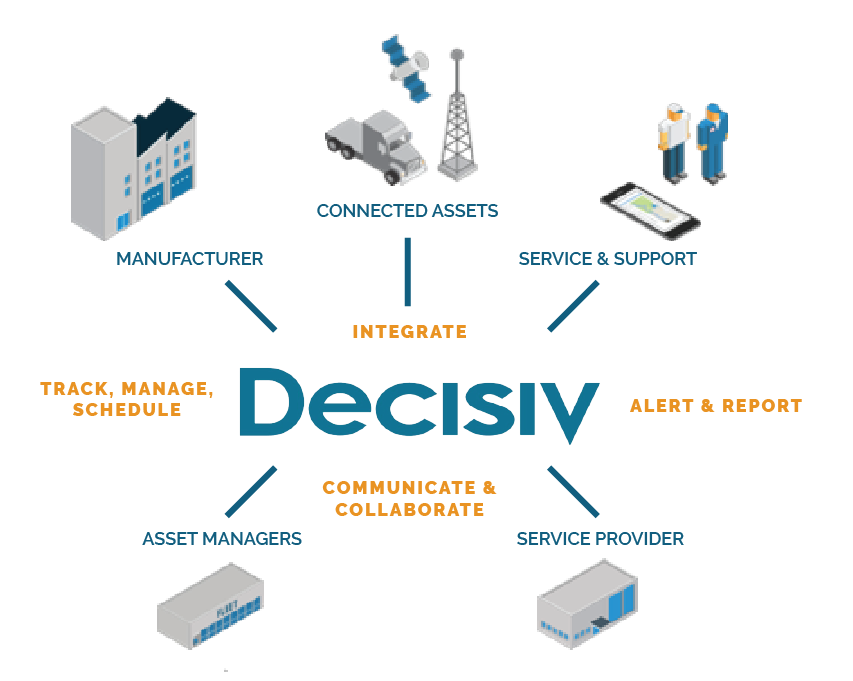 Slide 5 - Track it All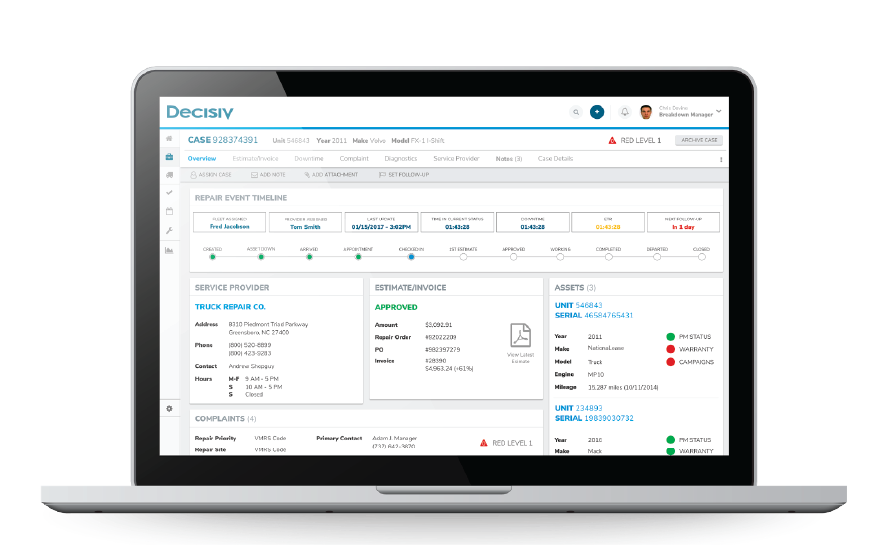 Track it all, in real time.
Decisiv SRM keeps all service participants informed about the repair status in real time. Get notified as soon as there's a new estimate for approval or when the estimated repair time changes.
With fewer unexpected surprises, repairs happen more quickly and average downtime is reduced by more than three days.
Slide 6 - Asset Returned
Work completed and asset returned to service.
With Decisiv SRM, people collaborate efficiently to significantly reduce time associated with repair events, and to ensure repairs are done correctly the first time. Which means more uptime, better asset performance, and happier customers.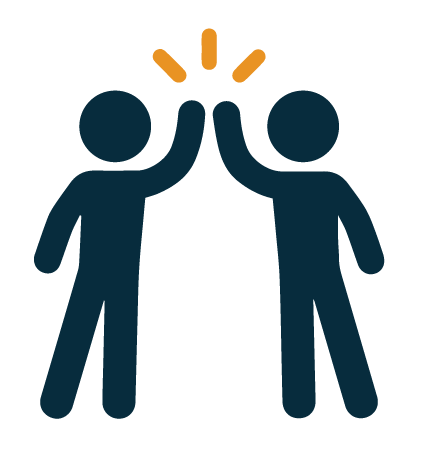 Slide 7 - Ecosystem
Decisiv SRM helps drive 1000s of service events every day, but its benefits don't stop there.
We've used Decisiv SRM to build an ecosystem that reaches beyond the management of repair events.
Slide 8 - Calculate
Calculate the potential value of SRM for your business: