Assets in Active Operation
Connect dealers, assets, and customers to drive improved uptime and asset performance.
Fixed Right the First Time
See higher uptime and fewer comebacks by making sure repairs get done right.
Improved Efficiency
Whether in-shop or mobile, technicians start jobs with the information they need.
Points of Integration
Decisiv SRM connects to your existing systems to give you access to new data and capabilities.
Decisiv Service Relationship Management delivers value to all commercial vehicle, equipment, and component service event participants.
At Decisiv, we're delivering the most widely used Service Relationship Management (SRM) system in the commercial vehicle industry, revolutionizing the service supply chain and enabling our partners to deliver real-time, critical data to service providers and fleets in a single location at the point of service.
The SRM platform has evolved from simply streamlining service events to become the largest asset management Ecosystem in the commercial vehicle industry, bringing together equipment and component manufacturers; fleet owners, managers, and operators; and service providers on a common platform and offering an unrivaled level of connectivity and control.
The Ecosystem dynamically delivers actionable, real-time data, applications and intelligence at the point of service from all connected partners, a unique offering that breaks down silos and enables real-time decision making, streamlined fleet management and a lower total cost of asset ownership. To date, the Ecosystem has delivered more than XX billion dollars in savings to OEMs, dealers and fleet owners.
The Decisiv SRM Ecosystem has managed over 18 million service events across more than 4,800 service locations in North America. By serving as a connected system of engagement for our commercial asset and service data partners, we are achieving our vision of transforming how assets throughout the world are acquired, managed, and serviced, and are uniquely positioned to meet the emerging asset management opportunities that electrification and autonomous vehicle technology will pose – at the right time, in any location.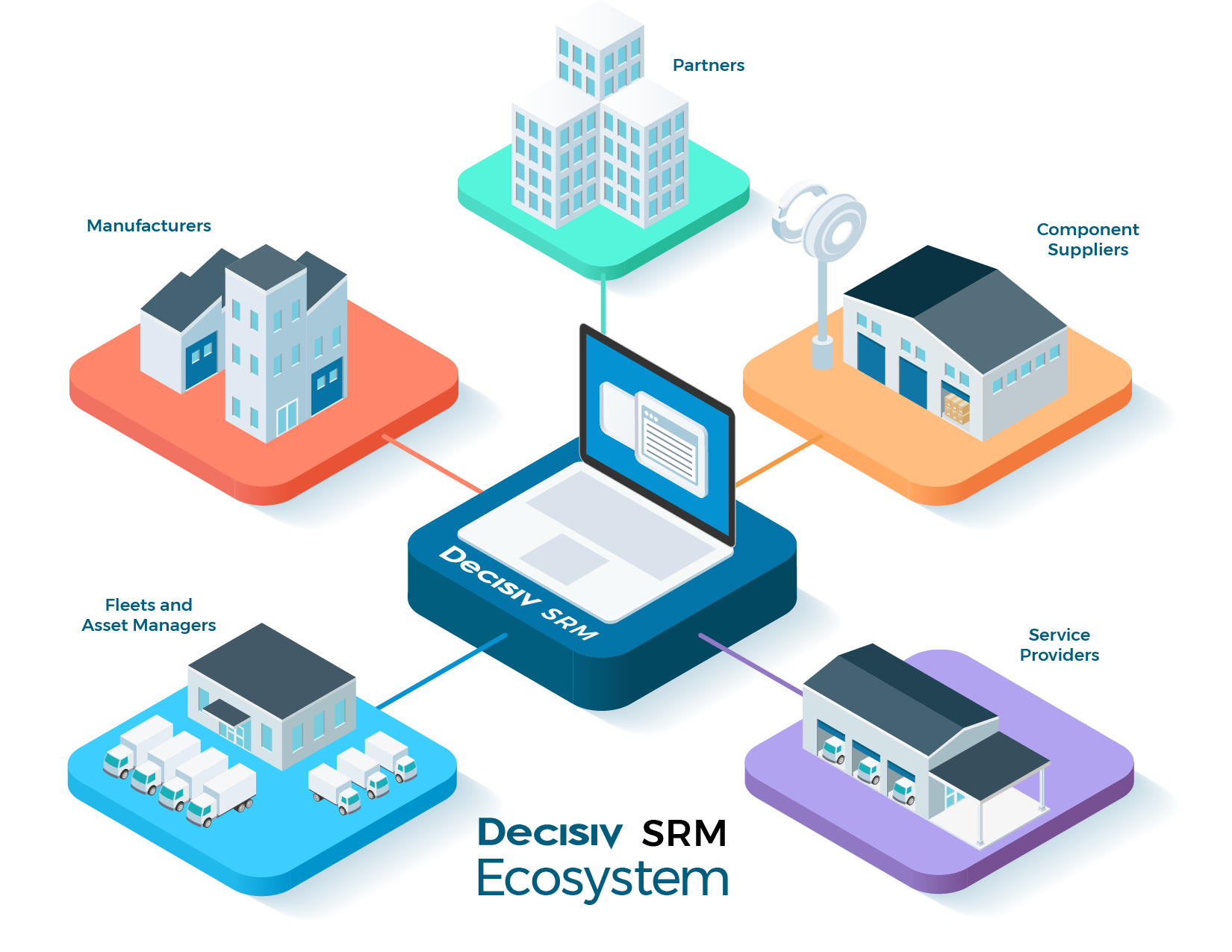 The Decisiv SRM Ecosystem: Built for the Future
Because of its industry adoption, Due to the broad adoption of the SRM platform by most major manufacturers in the industry, it's very likely that your fleet is already connected to the Decisiv SRM Ecosystem. In fact, nearly 60 percent of commercial vehicles are already being managed in the SRM platform due to the extensive Ecosystem and our relationships with OEMs and component suppliers. In fact, it's highly probable that service events for up to 60 percent of your fleet's vehicles are already being managed in the Decisiv SRM platform, or our partners are already using your components or service locations. Today, more than 40,000 fleet users are using the solution to manage maintenance and repair activity for over 7 million assets. On an average day, SRM is handling nearly 13,000 repair events for fleets.
To understand how the Ecosystem can provide value through connectivity specifically for your business, visit one of the following: